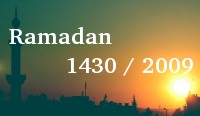 OIC (Organization of Islamic Conference) decided in its multiple meetings in 1974, 1978 and 1984 upon the issue of moon sighting and starting of Islamic months. All member countries (including Saudi Arabia and Pakistan) agreed that an Islamic month will start on the "earliest possible calculated sighting of moon anywhere in the whole world."
Germany:
Last year 4 Muslim organizations in Germany came together to decide on a common starting date for Ramadan. These organizations then announced agreed upon dates and about 200 mosques followed them. This is the start of the unity in Muslims (at least in Germany) that has been awaited for decades.
This year, they have again agreed upon a common date for Ramazan to begin on Friday 21 August 2009. There are four Muslim organizations including Turks, Arabs, etc, which have formed KRM (Coordination Council for Muslims, in Germany). The criteria for their decision making is the 1978 decision of the OIC (Organization of Islamic Conference) on Ramadan and Eid.
To my inquirey, www.islam.de gave a clarification of their announcement for starting Ramadan on Friday 21-08-09 (http://islam.de/13704.php). It is better to read their clarification, however, for non-German-speaking Muslims, here are some imp points they mentioned:
- the OIC decided in 1978 that an Islamic month will start on the "earliest possible calculated sighting of moon anywhere in the whole world."
- about 57 member countries agree to this decision and thus removed the doubt in physically seeing the moon. However, most of these countries are not acting on their promise.
- Turkey is one of the few countries that has been following this decision for many years now. http://www.hurriyetdailynews.com/n.php?n=month-of-fasting-commences-2009-08-19. (the issue was resolved in three conferences ... of OIC, in 1974, 1978 and 1984)
- The majority of Muslims in Germany are of Turkish descend. So their opinion carries a big weight in meetings for issues related to Muslims in Germany.
- European Council for Fatwa and Research (ECFR) decided upon this matter in 2007 in Sarajewo.
- Because of the lack of unity, the issue of a holiday for Muslim children in German schools on Eid day is unresolved.
Eid-ul-Fitr
Hence, according to them, Eid-ul-Fitr will be celebrated on 20-09-09 inshAllah.
What to do:
Please try to convince your local mosques and Islamic centers to follow this decision of OIC so as to unite us. I know it is difficult, but not impossible. Last year we also put some pressure on our mosque and they did it. However, please don't be harsh and fight. If they don't accept it this time, maybe they'll accept it next year, or the next year. Just keep on trying in the best way and keep changing public opinion.
You can see the announcement here (German): http://islam.de/13657.php
Jazak Allah khayran