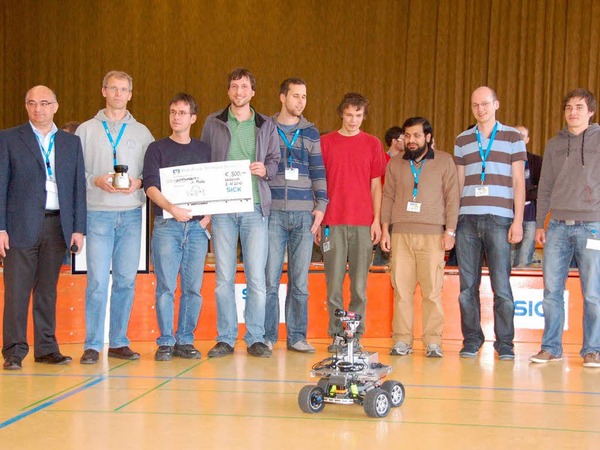 On 2nd October, one day before the national day of Germany when East and West Germany got united,
we participated
in a robotics competition for which we were preparing since last year. The competition was organized by a renowned German company building laser sensors and other stuff, called
SICK
. The competition is thus called
SICK Robot Day
. It comprised of a circular area with numbers drawn on big posters and hanged along the boundary of the arena. Within the arena, multiple obstacles are placed at different places on the ground. Each robot has to recognize the numbers and drive to them in sequence while avoiding the obstacles.
There were 12 German and 4 European teams. Our robot (called "
Attempto
") completed the whole task in 3 minutes. Our robot hit some obstacles, so including the penalties, our task time was 3:18 minutes. Each robot was given a time of 10 minutes to complete the task. The robot at second position completed the task in over 6 minutes. No other robot was able to correctly complete the task. One other robot completed the task, but it misjudged one of the numbers. Here is the video of the successful run of our robot: